Photo credit: pinterest.com (Follow me on Pinterest.com/theshop247 for more ideas)
How exciting. Valentine's Day *finally* falls on a Friday this year. Doesn't it seem like YEARS & YEARS since it's been on an actual night we can really celebrate to the fullest?? And next year, it will be on a Saturday night! Woo hoo!
Whether you're gonna celebrate with your lovely girls, darling mother, sweet old grandma, or your love, I wanted to share some fun & unique ideas with you all. This little guide will be especially helpful for those of you who have been in a relationship for years/ are married and are getting tired of the same old dinner date!
Disclaimer: None of the links/ideas/events provided below are sponsored in any way. It's simply a personal compilation of unique ideas I thought I'd share with you all.
1. SPEND THE NIGHT IN THE WILD!
Check out your local zoo and see if they've got any nighttime camping events.
The Safari Park in San Diego, CA
has a couple of really fun & unique camping packages available. Here are the ones I think would be fun, educational, amusing & romantic:
Photo credit: redtri.com
*VALENTINE ROAR & SNORE SAFARI
Want to have a wildly romantic night with your special someone at the Safari Park? Join us for a candlelit wine dinner, a romantic Africa tram tour, a peek behind the scenes at wild bedrooms, and a night sleeping under the stars. The next morning, take a walking tour to Nairobi Village to see a training demonstration with animal ambassadors.
ANIMAL AMORE ROAR & SNORE
Explore the racy side of the Safari Park as you spend the night learning about the birds and the bees. Enjoy a romantic candlelit dinner and an animal mating tour, and play the mating game to test your knowledge of animal breeding! We will explore the love lives of the animals in our collection and the breeding that will keep them alive for future generations.
*BREWMASTER ROAR & SNORE SAFARI
After a hearty Brewmaster Dinner, featuring Hangar 24 Craft Brewery, spend the night listening to the sounds of the wild at the Roar & Snore campground. Experience a nighttime Africa Tram Safari, guided walking tours, and up-close encounters with our animal ambassadors as you enjoy the Park after dark. (There is an additional $50 fee per person for this special sleepover experience.)
Photo credit: pinterest.com
2. PARTICIPATE IN A MURDER MYSTERY DINNER
This is a great twist on the classic dinner for Valentine's day. Maybe take your special someone out to a dinner AND a show! Usually, these shows are interactive, entertaining, and pretty funny (and if it's not, just buy a few more drinks and then I'm sure it will be! Just kidding). Plus, it will probably ending up costing about the same as a nice dinner, so it's definitely worth looking into, especially if your date has a sense of humor! As a tip, I'd look up some reviews for different ones to compare them, as I did go to a pretty low-production murder mystery dinner once and the jokes were terrible and so were the acting and costumes! You might be wondering why I'm recommending something like this to you if I didn't even enjoy it. Well, 1) my friend LOVED it! 2) I've heard other friends rave about specific murder mystery companies. I am curious to try
the Dinner Detective.
3. TAKE A CLASS TOGETHER
Uhhh... a "class?" I know what you're thinking. That sounds like more work after work! Why would anyone do that? Well, the thing I like about this idea is that taking a 1-night class is a joint activity you & your valentine can both enjoy together. Here are my top picks: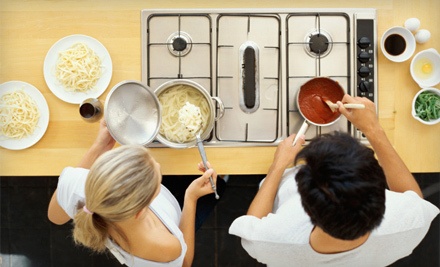 Photo credit: groupon.com
- Cooking class (available at
Sur la table
,
Great News!
, etc.) what a great way to get to know each other & share a homemade dinner! Totally reminds me of a scene from Hitch w/ Will Smith & Eva Mendes.
- Massage class (check Groupon or LivingSocial) not only is this useful to learn, but the best part is that you can practice on each other. Trust me, you'll thank me later!
- Painting class (check Groupon or Living Social) sometimes these classes allow you to BYOB (bring your own booze) which can make you more relaxed & not as nervous trying to replicate a Van Gogh
- Ceramics decorating class- think Ceramic Cafe or Clay & Latte. You pick your own ceramic, which ranges in price depending on what the item is. You can paint and decorate mugs, picture frames, bowls, jewelry holders, piggy banks, etc.
Photo credit: njmonthly.com
4. HAVE DINNER & A MOVIE...IN YOUR CAR
Want to get away from the crowded & overpriced restaurants in town? Well my solution is to get something to-go, grab a bottle of your favorite drink, a blanket, & go over to your local drive-in movie theater to catch a flick or two in the comfort & quiet of your own car. Simple, affordable, yet still fun, regardless if you're with a group of friends or your sweetheart. The old drive-in by my house charges $8 a person and you get to watch 2 current movies. Some places even charge 1 rate per vehicle!
5. SHARE A FEW LAUGHS
Stressed from the work week? Want to unwind and have a good time and most importantly, turn OFF your brain for awhile? I'd head over to the comedy club, grab some food and drinks, and watch some professionals do some standup. One of my favorite intimate comedy clubs is
Mad House in Downtown San Diego
. They always offer free shows during the week and sometimes even the weekends. This is a fun and unique idea that is sure to amuse your date. It's always nice to change it up from the norm!
Photo credit: magiccastle.com
6. HAVE A MAGICAL NIGHT
I celebrated a friend's birthday at an exclusive Magician's club last year and I have been trying to find the opportunity to go back ever since! I am, of course, referring to none other than the one, the only, legend----wait for it---dary
MAGIC CASTLE in Hollywood
. Headed up by Neil Patrick Harris, it is a "member's only" magic academy with 4 bars, a restaurant, and numerous salons/theatres. I absolutely loved it. The dinner was pretty good, and there was never a dull moment. Card tricks, a woman being sawed in half, disappearing acts, you name it!
Tips: try to find a magician who is a member online (I just used trusty old Google) and request an invitation. There are 2 options: Brunch (all ages) or Dinner (21+). I'd go with the dinner option personally, just because the hours are longer, there are more shows, and you get to drink! Plus, the magician's jokes are for more mature audiences as well.
7. ENJOY A NIGHT OF LUXURY
Photo credit: cinepolisusa.com
I'm referring to a night of leather reclining seats, "real" food, drinks (not just alcohol, but milkshakes too), & a movie, of course. Sound like fun? Well check out
Cinepolis
, a completely different movie-going experience, you're sure to enjoy! You get to reserve your seats ahead of time, get food delivered straight to your seat (including alcohol), and watch from a super comfy reclining leather chair. And, in case you're wondering, YES you get to put your feet up. It's about $20 a movie ticket and all food & drinks are extra, but always a fun treat for a special occasion.
8. STAY IN & HAVE A PICNIC
Photo credit: mikaelaruthblog.com
Valentine's Day is typically chilly, as it is still wintertime...yes, even in California, we feel cold, ok! So a romantic moonlit picnic on the beach is usually out of the question, unless you bring a portable heatlamp, gloves, a scarf, a set of headlamps...not so sexy, right? Well, if you still want to have a picnic-style dinner, you still can!
Take a look at my Pinterest board
(I just joined!) for some ideas for decoration and set up.
Click here for more photos like the one on the right.
9. GO TO A D.I.Y. RESTAURANT
Want to have dinner & have fun at the same time without having to set it all up yourself at home? Check out some local restaurants where you can grill/cook your own food together such as:
Photo credit: cbslocal.com
-
Fondue
-
Melting Pot
has many options available, including chocolate and cheese fondues.
-
Korean BBQ
- grill your own tasty, marinated meats. Don't try this if you don't want your clothes, hair, skin, etc. to smell afterwards though!
-
Grilling Steak
- some restaurants like the
Gaslamp Strip Club
allow patrons to grill their own meat. Do not bring a vegetarian here.
-
Seven Course Beef
- usually served at Vietnamese restaurants, you get to eat beef cooked 7 different ways. Some dishes are prepared for you and others you have to cook yourself.
-
Hot pot/ shabu shabu
- PERFECT for chilly weather! Pick a soup base or two and order raw meats/seafood/veggies/noodles/etc. to cook in it! I like
Little Sheep Mongolian Hot Pot
,
E & Drink
, &
Jazz Cat
. This can also easily be done at home, too, of course!
10. STRIIIIIIIKE! PERFECT 10!
Photo credit: hollisbc.com
Put on your bowling shoes & have a ball (get it, "ball?" because there's a bowling ball...) chatting, eating, and playing a couple rounds at a trendy & modern bowling alley like
East Tavern Bowl
or
Lucky Strike
. Whether you are in love, or striking out, you can always have a fun night!
In the end, no matter what plans you've made for Valentine's Day, just be thoughtful, creative, safe, and, most importantly, have a good time!
xoxo, CY
I'm pinning! Follow me on
Pinterest.com/theShop247
:)
Read More